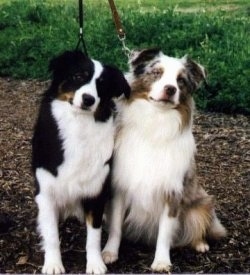 AKC Group: Herding
The Miniature Australian Shepherd came to fruition in California during the late 1960s. They were used to herd small livestock like sheep and goats, though they do have the determination to herd larger stock. Their loveable nature ensured that they had a place inside the home too. They became quite popular with the equestrian set by accompanying them to shows.
Size: 13 to 18 inches high; 20 to 40 pounds
Color: Solid black, red/liver; red/liver, blue merle. May have white markings on the face, chest and legs.
Life span: 13 to 15 years
Health problems: Progressive retinal atrophy, cataracts, microphthalmia, hip dysplasia, degenerative myelopathy.
The Miniature American Shepherd is a small herding dog. Highly intelligent and biddable, the breed is often trained for dog sports such as herding, agility, obedience, disc dog and flyball. They are easy to train, enthusiastic and persistent (especially when herding) dogs that make a lovely companion whether you live in the city or country. This is such a loyal little dog. I hope your children like to be herded. The Miniature Australian Shepherd is neither shy nor aggressive. He is a herder. Have I mentioned that? It's super important because he's super great at it. It's okay, though, it's natural and totally normal. They're herders; they love to herd. Got that? 😉
The Miniature Australian Shepherd may not realize that he's a small dog. His body should suggest strength. They sport natural bobtails or they will have a docked tail that won't exceed three inches. The coat is medium in length and may be straight or curly with moderate feathering on the back of the legs. Both sexes sport a moderate mane, though it may be more pronounced on males.